SEO, or search engine optimisation, is one of the most important aspects of online marketing. If you are looking to improve seo on your website & rank on Google, then you need to focus on optimising your content and images. In this blog post, we will discuss 9 tips that will help improve your SEO without breaking the bank!
1. Use keyword-rich titles & descriptions
When creating content for your website, be sure to use keywords that are relevant to your business and what you do. This will help improve SEO as it will signal to Google what your website is about. For example, if you are a florist, then using keywords such as 'flower delivery', 'wedding flowers' or 'corporate flowers' will help improve your ranking. You need to make sure that the keywords you use are easy to medium to rank on Google as well as having a high search volume.
Some great Keyword Tools that are free are:
Ubersuggest allows you to get insight into the strategies that are working for others in your market so you can adopt them, improve them, and gain an edge. You can now even search competitors' websites to get better keyword ideas.
Wordtracker is a great "keyword research" tool that allows you to find the right keywords for your website.
Google Trends is Google's free keyword research tool, it's great way to see what keywords are being searched for the most and how these searches have changed over time.
2. Optimise your images & Compress Images
Images are a great way to improve SEO on your website. Be sure to use descriptive file names and ALT tags that include keywords. For example, if you have an image of a bouquet of flowers, then the file name could be 'flower-bouquet.jpg ' and the ALT tag could be 'Flower Bouquet'.
Another great tip is to compress your images before uploading them to your website. This will help improve loading times, which is important for both users and search engines. There are many free image compression tools available online such as TinyPNG and JPEGMini.
Other good resources are plugins such as Smush & ShortPixel Image Optimizer which will both optimise & compress your images without losing the quality. Both are free & have paid verisons.
3. Publish high quality & keyword rich content
One of the best ways to improve SEO on your website is to publish high quality, keyword rich content. This will not only help improve your ranking but also keep users engaged on your site. When creating content, be sure to include relevant keywords & phrases, use to only one h1 tag & multiple subheadings, and make use of bullet points.
Another great tip is to include images & videos as they help improve engagement and can also be optimised for SEO.
4. Optimise your website for mobile devices
More and more people are using their mobile phones to access the internet, over 57.38 percent of all web traffic as of February 2022 is coming from mobile devices.
This means that it's important to have a mobile-friendly website as it will improve SEO & the user experience. Google uses what's called 'mobile-first indexing', which means that they will crawl and index your website based on its mobile version.
Some great tips for optimising your website to improve SEO for mobile are:
– Use a responsive design
– Use large font sizes & buttons
– Optimise images
– Minimise content
5. Use social media to improve SEO
Social media is a great way to improve SEO as it helps build links and increase brand awareness. Be sure to post high quality, keyword rich content and include links back to your website. You can also use social media to promote your blog posts and articles, try to constantly be promoting your website with strong CTAs. Also make sure to create a links page as a hidden page on your website, this will allow you to track your analytics rather than using a third party like linktree.
6. Submit your sitemap to Google Search Console
A sitemap is a file that contains all the pages and posts on your website. It's a great way to improve SEO as it helps Google index your website more effectively. You can create a sitemap using various tools such as XML-Sitemaps or my favourite SEO plugin Rank Math allows you to download the sitemap. Once you have created your sitemap, you can submit it to Google Search Console.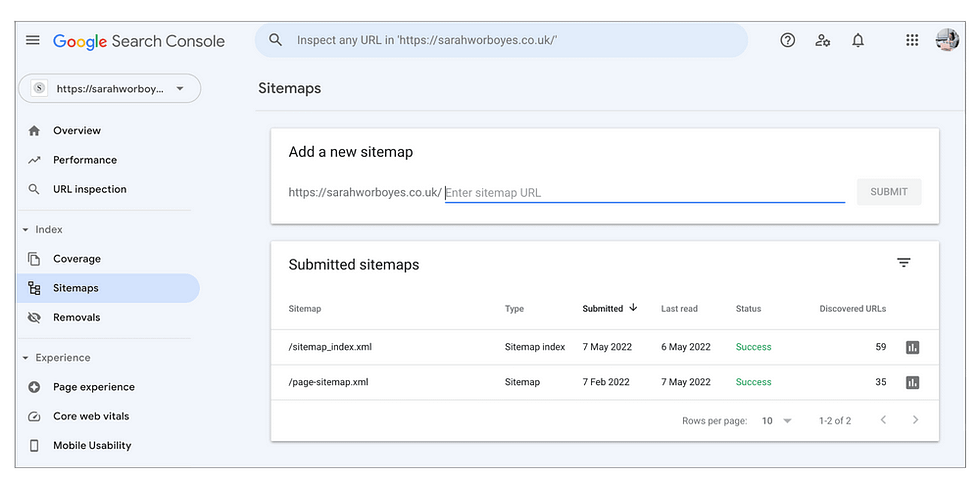 7. Use Google Analytics & Google Search Console
Google Analytics is a free tool that allows you to track your website traffic and see how users interact with your site. It's a great way to improve SEO as you can see which pages are performing well and identify any areas for improvement.
Google Search Console is another free tool from Google that allows you to monitor your website's performance in the search results.
Both Google Analytics & Search Console are essential tools for any website owner, so be sure to set them up today!
8. Monitor your website's performance
Regularly monitor your website's performance. This includes checking your website's speed, uptime, and security. There are many free tools that you can use such as Pingdom or GTmetrix. If your website is taking more than 5 seconds to load this is going to have a negative impact on your SEO & user experience so it's important to improve this.
Uptime is also important as if your website is down this will also have a negative impact on your ranking. Be sure to use a monitoring tool such as Uptime Robot which will notify you if your website goes down.
Security is also an important factor to consider as Google takes website security seriously. Be sure to use a strong password & two-factor authentication if possible. You can also use a plugin such as Wordfence to help improve your website's security.
Regularly monitoring your website will help identify any issues and improve SEO.
9. Install RankMath Plugin
RankMath is my favourite SEO plugin for WordPress, I highly recommend installing this for anyone looking to improve their SEO. It's packed with features such as keyword research, sitemap submission, and social media integration.
Best of all, it's completely free, you can buy credits for their Content AI feature which gives you sophisticated suggestions for related keywords, questions, and links. Content AI also gives you questions to answer & will tell you how many headings, links, images & word count that you need to rank. It will give you a score out of 100, you can keep optimising, the higher the score the more chance you have of ranking on Google.
Final Thoughts
So there you have it, nine tips to improve SEO without breaking the bank.
Implement these tips today and you'll see a big improvement in your website's ranking. The next step after optimising your website is making sure you are driving traffic to your website, find out the 6 free ways to drive traffic to your website.
If you are struggling with where to start with DIYing your website download my free 5 day email challenge which will outline the 5 biggest mistakes that are costing you sales.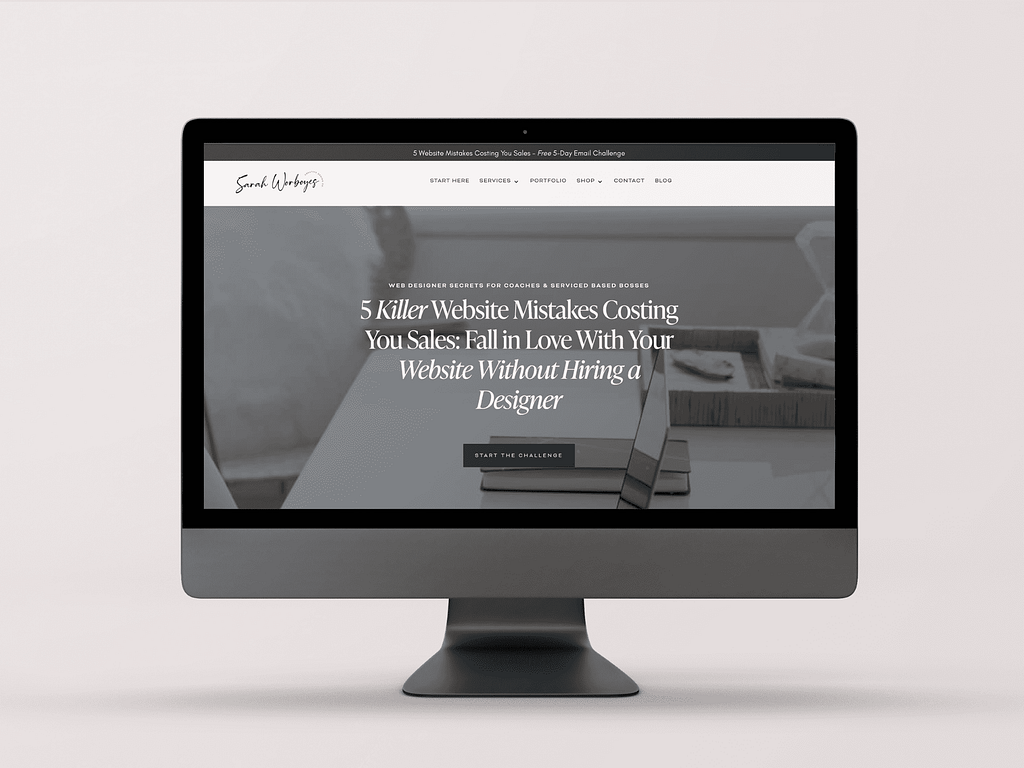 Don't fancy taking on this SEO challenge alone? Hire me to optimise your website for you, find out more about my SEO packages here & find out more about my very affordable blogging packages. Whether you want your blogs written for you, uploaded for you & optimised for SEO, I have a package to suit your business.
Happy optimising! 🙂