The Dubsado Client Portal is a nifty little feature. The Client Portal allows your clients documents & information kept all in one place, meaning they won't have to search for forms, contracts, emails. All communication can be viewed inside the Dubsado client portal. One thing to note is they don't have to login to the client portal to send emails, sometimes a misconception. 
So today I'm going to show you how to customise the client portal banner & I've got some free Dusbado Portal Templates I've designed to make the process easier. 
Dimensions for your Client Portal Banner
Dubsado gives your two options for images on your client portal. You have an image for Desktop & an image for Mobile. 
The Desktop dimensions can vary but the dimensions I like to use are 1800px (width) by 200px (height) – I've tested various sizes & this is the best size for desktop 
The Mobile dimensions are 700px (width) by 400px (height) – these are the best dimensions for mobile.
Download your 20 Free

 

Dubsado Portal Templates

 

for Desktop & Mobile
20 free templates to stay on brand & WOW your clients – it really does add to that 5* client experience.
Where to find your Portal Settings & How to Customise
The ability to change your client portal information lives under the gear settings tab in your Dubsado account. This can be located at the top right next to your brand logo.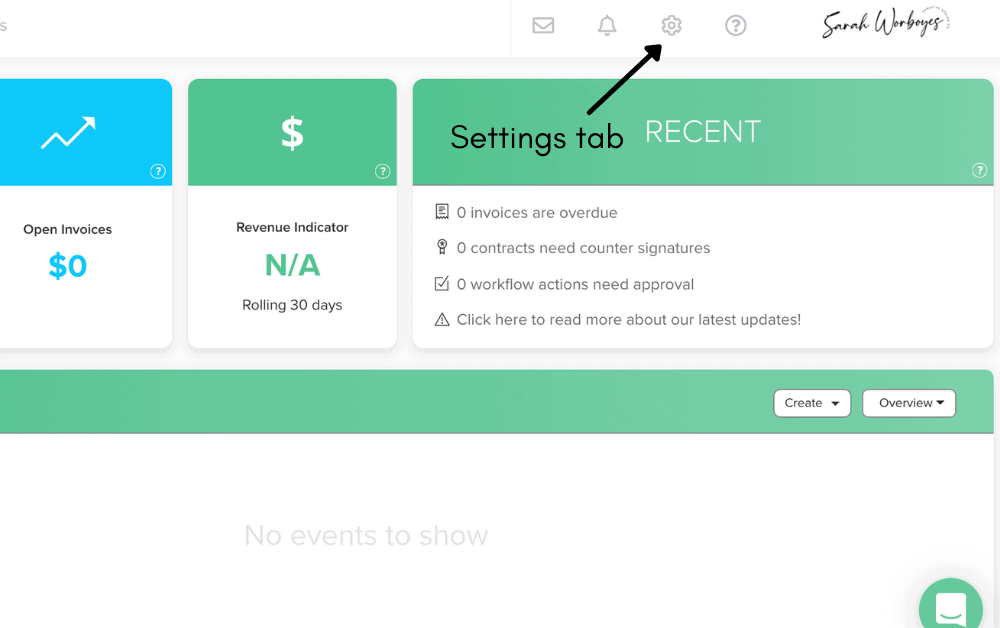 Once you've clicked on settings you will be able to locate the portal tab. 
Here you have various features you can update in your portal. Here is a video on how to make all the changes within your client portal. 
Features your Can Change In the Client Portal
Your Portal Welcome Message: You can turn this on or off depending on what you have on your portal banner image
Your Hex Codes/Branding: You can upload your branding for the headers & font colours in the client portal
Your Portal Banner Images: You can change this for desktop & mobile view
Your Logo: If you want to show your logo then you can upload or you can remove if it's already on your portal banner image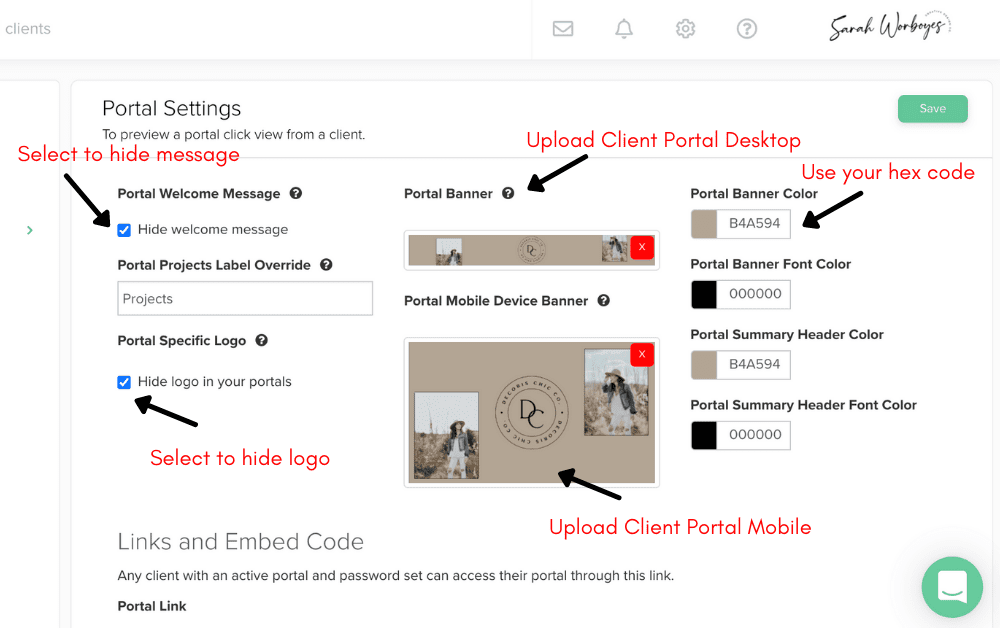 Testing your Portal Banner
You may want to view your client portal to make sure it looks exactly how you want your client to view it.
Firstly, set yourself up as a sample client. Then activate the client portal, add a password. Go back to the settings tab & grab the URL, login as normal & there you can view your portal as your client would see it. 
Final Thoughts
The Dubsado Client Portal is a great feature to use for clients. By giving them access to their portal & directing them to complete forms within the portal it will make it easier for your business.
It will stop you from sending email after email with links of forms. For instance, my website in a day package includes two forms for my clients to complete, one onboarding which includes their branding, information I need, & the other is copywriting & SEO.
Instead of sending my client multiple emails with links, I can easily direct them to their client portal where they can view all the forms that need to be completed. 
Thinking about customising your Dubsado Portal but not getting round to it? You can download my free portal banners by clicking here. 
Interested in Dubsado but not got around to customising it yet? Click here to find out more about my Dubsado Form Design Service.  Get 10% OFF with discount code DUBSADOMAKEOVER.